Car Key Replacement
Alpharetta car key replacement services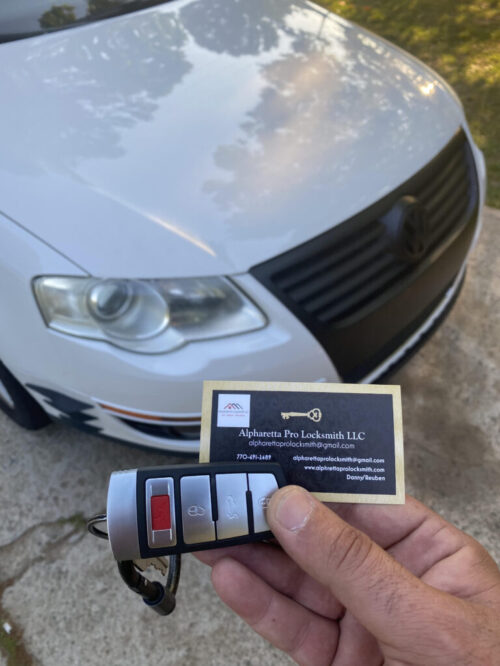 Automotive Locksmith Services in Alpharetta 
When choosing a mobile locksmith service to work with it is important to go with a licensed and insured professional. Hiring a professional mobile locksmith ensures that you are in trustworthy hands. If you are in need of mobile locksmith services in Alpharetta GA, call our team at Alpharetta Pro Locksmith for more information on our affordable prices and our many services such as car key replacement, emergency lockouts and more! We are the best choice for any situation or issue you might have regarding the lock, key, door or ignition on your vehicle.

Why Alpharetta Pro Locksmith?
When choosing a mobile locksmith in Alpharetta, GA, it is important to go with a licensed and insured professional. A licensed professional will not overcharge you or use subpar equipment that could cause damage to your car. Also, if anything goes wrong with the job they've done, they are liable for any damage done and will take responsibility for their actions.
Locksmith scams do exist so be wary of anyone trying to come up with excuses as to why they cannot service your needs today or tomorrow, or why they cannot offer quotes on their services. There are some bad apples out there who will try to scam unsuspecting customers into paying them double what it actually costs them per job! We here at Alpharetta Pro Locksmith has been vetted by the state as a legitimate business and we are here to help. We are insured and certified so you can be assured that your vehicle is in good and trustworthy hands when working with us. For a free quote give us a call today at (770) 691-2489.
Our technicians are friendly and courteous, giving you a quick and easy time when it comes to your lock problems. We're available 24/7 to give you the help that you need in any situation, so if something goes wrong after hours or on weekends, we can still come out as quickly as possible!
Our wide range of unique services has many benefits: we are affordable; we can help with any situation (from creating duplicate keys all the way up to fixing your vehicles lock); plus we have several different prices depending on the type of job is being done so there isn't any guesswork involved when deciding whether or not our mobile locksmith services will fit into your budget!
We hope these reasons show why Alpharetta Pro Locksmith and our team of seasoned, trained professional technicians are an excellent choice for anyone looking for reliable support around town.

Book an Alpharetta Locksmith

FREE ALPHARETTA LOCKSMITH QUOTES

Licensed, Bonded and Insured

Let Alpharetta Pro Locksmith Handle Your To-DO List

WE FIT IN YOUR SCHEDULE 24/7 AS WE COME TO YOU

SAVE MONEY ON ALPHARETTA LOCKSMITH SERVICES
Local Locksmith in Alpharetta, GA
Contact Alpharetta Pro Locksmith
24/7 Emergency Locksmith and key replacement Services
When you need a locksmith, no matter what time of the day or night it is, you can count on Alpharetta Pro Locksmith to help. Our technicians have been providing 24/7 emergency locksmith services for years and are ready to assist when you need us most. With our mobile units, we are able to come directly to your location so that we can get the job done quickly and efficiently.
We offer a wide range of services including lockouts, key extraction, lock repair and key replacement services for both residential and commercial properties as well as automobiles.
If you are looking for an automotive locksmith in Alpharetta, GA then Alpharetta Pro Locksmith is your best choice. We offer 24/7 emergency services and we are always on the go! Our team of licensed and insured professionals will be there to help you with all your locksmith needs. Call us today at (770) 691-2489 for more information!
ALL MAJOR CREDIT & DEBIT CARDS ACCEPTED